Halloween Bundle of Three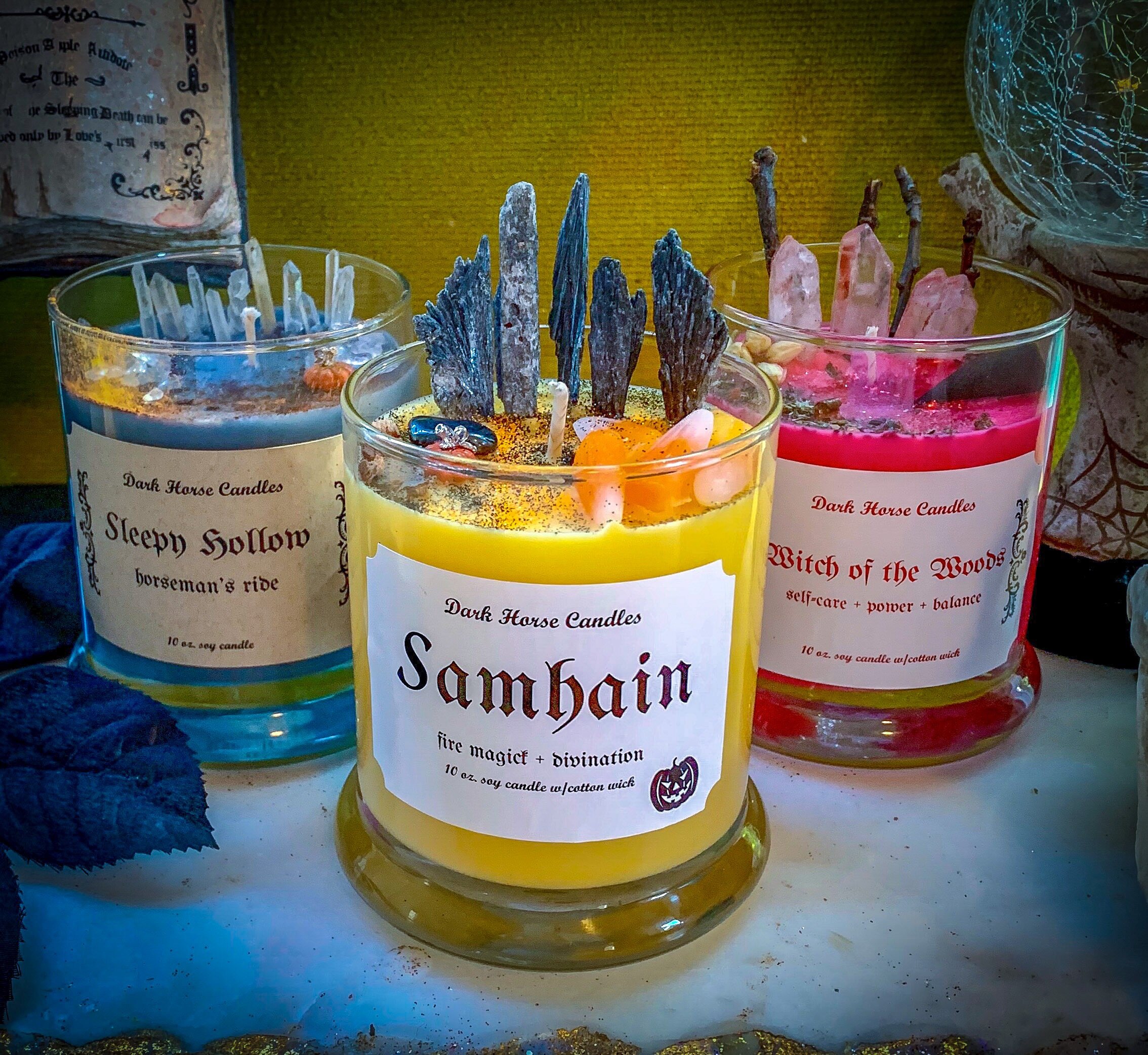 Halloween Bundle of Three
Celebrate the season with all three of our deluxe Fall Collection candles: Samhain, Sleepy Hollow, and Witch of the Woods. Each features a unique, festive scent and is poured as a ten ounce soy candle.
SAMHAIN
Samhain is poured in orange, finished with a miniature pumpkin charm, and features a jack-o-lantern on the label to represent the protective heritage of carving pumpkins to ward off evil on Hallow's Eve.
A hematite stone and birch bark add additional protective qualities to this candle, by calling on earth energy to protect the home and everyone in it.
Black kyanite shards enhance clairvoyance and divination rituals to help you get in touch with friendly spirits, while providing balancing energy to all of the chakras and warding off energy vampires.
Samhain features a beautiful, spicy pumpkin scent with notes of nutmeg, ginger clove, and cinnamon. Finished with wax candy corn and black and orange glitter for fun.
SLEEPY HOLLOW
Take the horseman's ride with this trail-blazing protection candle, poured in black and generously infused with clear quartz shards and chips to ward off any beasties lurking in the shadows this season!
Enjoy the warm aroma of baking apples and cinnamon from nearby cottages, as you ride through the rolling hills of the Hudson Valley on your way to Sleepy Hollow. Made to channel the ferocious energy of the Headless Horseman, Sleepy Hollow is about using that power to keep you safe— and keep your head in place this Halloween!
Embrace the gothic history of Washington Irving's classic story, as you burn this artisan candle— which has been sprinkled with pumpkin pie spice "dirt" to represent the roads well-traveled by Ichabod Crane and Katrina Van Tassel.
Poured in black for protective cleansing energy and finished with clear quartz for positive vibes and a pumpkin charm that may be removed and used in jewelry or placed on a sacred altar.
WITCH OF THE WOODS
Poured in blood red to represent vitality, sexuality, and power, Witch of the Woods is infused with natural earth elements to help you discover your personal power.
Beguiling and beautiful, the Witch of the Woods resides deep in the forest, through overgrown brush and past trails mortal men have not yet walked. She bides her time as one with nature. Wild beasts and medicinal botanicals are the company she keeps.
Away from the world of men, she is free and innocent. She is smart in ways we cannot fathom. She could find her way through the forest with her eyes closed.
Her senses are heightened. She is wise to the ways of the earth and its magick. Pure as new-fallen snow, her heart beats for the simple life. Things don't always have to be complicated.
Go deep within and find your inner Witch of the Woods with this candle, which features a warm, woodsy scent. She is finished with authentic twigs, hematoid quartz points for protection and balancing the root chakra, jasmine flowers to represent beauty and sensuality, basil to draw prosperity, birch bark to protect children and honor the earth, and a rose incense cone for love. Sprinkled with "new-fallen snow" mica for pureness of heart.
DISCLAIMER: Twigs and incense cone must be removed before burning to avoid fire hazards. Incense cone may be burned separately. Twigs may be placed on a sacred altar.
sale