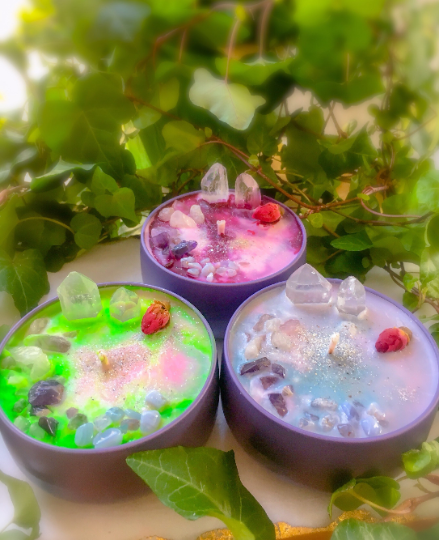 Fairy Ring
Say hello to Fairy Ring, a candle inspired by fairy magick and lore.
Fairy Ring is lovingly poured in small batches, decorated by hand, and left to cure under the Moon. It features light sea foam green to inspire feelings of serenity and is adorned with quartz points, rose quartz, amethyst, and blue lace agate.
Two authentic quartz points are set into Fairy Ring. Aligned side by side, these points begin the "ring" of stones. Chunks of rose quartz, amethyst, and blue lace agate enhance the mold and create the perfect backdrop for calling on the magick of the fairies.
Known in the folklore of many traditions, "Fairy Rings" are rings of mushrooms found in the forest. For thousands of years, peoples of various cultures regarded them as supernatural dwelling places for magickal beings.
According to legend, fairy magick is powerful and their dwelling places are to be respected. It was said if a person entered a fairy ring, the fairies could entice them to dance until exhaustion or madness. But not all lore related to fairy rings is cautionary. In fact, fairy rings are known to bring good luck and prosperity.
In Welsh tradition, it is good luck to grow crops around them and allow livestock to feed nearby. In Germany, fairy rings were believed to be places where witches danced to celebrate the beginning of Spring.
Welcome Spring and channel the world of the fairies when you bless your sacred space with the luscious and uplifting Fairy Ring.
Available as a 7 oz. soy candle set in a lilac luxury vessel and finished with a rosebud to inspire beauty.
sold out